Remembering Those Who
Have Gone Before Us
Remembering Those Who Have Gone Before Us
Thomas Leroy Watt
10/16/1967 - 06/15/2022
Obituary For Thomas Leroy Watt
Thomas Leroy Watt, 54, of La Monte, MO, passed away Wednesday, June 15, 2022, at his home. He was born on October 16, 1967, in Davenport, IA, the son of Phillip Ray Watt Sr. and Sharon Lea Watt (Ewing), who preceded him in death.
Thomas was a 1986 graduate of Braymer C-4 High School in Braymer, MO. He then attended the University of Missouri. After attending MU for two years, Thomas's priority became being a father. Thomas had many job titles, including; self-employed mechanic, merchandiser ( Details Inc), parts counter salesman (Western Auto and NAPA). His last job was for the City of La Monte. But, above all else, his favorite job was being a proud father.
Thomas had many hobbies. As a young boy, stamp collecting occupied his free time. This hobby became a business years later on eBay. As a teen, music was an escape that created the biggest KISS memorabilia collector and fan. He also enjoyed history. He loved being able to collect pieces of history. He had collectibles that ranged from President Lincoln; Civil War; and Liberty Bell. His love for his country also revealed his love of the American Bald Eagle. He had many eagles throughout his collection.
Thomas is survived by two sons, Jordan Watt (Veronica), Samuel Watt (Jamie), both of Sedalia; one daughter, Jennifer Watt, of Brookfield, MO; nine grandchildren, Jordan Jr., Jaylynn, Memphis, Summer, Mason, Maylea, Thomas, Noah, Cassandra; three siblings, Kimberly Little (Martin), of Trenton, MO, Eric Watt, of St. Joseph, MO, Elizabeth Randall (Mike), of Sedalia; and an additional grandchild on the way.
In addition to his parents, Thomas was preceded in death by one son, Tyler Watt; one daughter in infancy, Cassandra Watt; two grandchildren at birth, Jessalynn, and Julia; and one brother Phillip Ray Watt, Jr.
A memorial service will be held at 10:00 am on Saturday, July 9, 2022, at La Monte Baptist Church, La Monte, MO, with Brother Larry Chapel officiating.
A burial of ashes will be held following the memorial service at Kingston Cemetery in Kingston, MO.
Arrangements are under the direction of Rea Funeral Chapel.
Services
La Monte Baptist Church
1005 Midland Street
La Monte, MO
65337
Get Directions »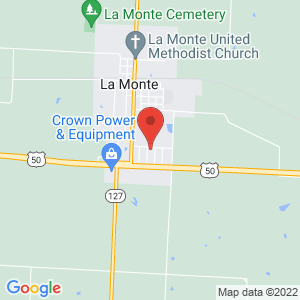 by Obituary Assistant
Photos & Video
Add New Photos & Video
Condolences

Obituaries
Rea Funeral Chapel showcases local obituaries for those who have recently passed away in the Sedalia, MO, area. Condolences and media uploads will be visible only after they have been approved.
Would you like an obituary to appear on our website?
Contact us with any questions.
We are here to help during your time of need.
For more information about our funeral services, please contact us today!