Remembering Those Who
Have Gone Before Us
Remembering Those Who Have Gone Before Us
David Dee "Dave" Moore
06/21/1950 - 08/01/2022
Obituary For David Dee "Dave" Moore
David Dee "Dave" Moore passed on Monday August 1, 2022, suddenly at his home. He was born June 21, 1950, the son of Dee and Shirley (Donath) Moore.Dave was married to Tracey Curry, who preceded him in death. On September 12, 2021, he was united in marriage to Barbara Doogs, who resides in the home. In addition to his parents, Dave was preceded in death by a brother, Gary Moore. He is survived by his beloved wife Barbara; a sister, Judy Moore; four adult children, Alia Burnach (Paul), Lincoln Moore (Liz), Lesa Wyatt (Michael), Lori Moore; sixteen grand-children, Nader, Layla, Malik, Alex, Ashley, Megan, Livy, Adam, Mathius, Kylen, Jade, Kalix, Harper, Oaklee, Bella, Kylee, and eight great-grandchildren.David was an Army veteran and lifelong resident of Sedalia and Pettis County where he recently retired from the Sedalia Parks Department after 30 years of service. David was a remarkable man. He was a devoted brother to Gary and spent years caring for his father Dee as his health declined and also cared for Tracey in her final years as she battled her terminal illness. He always put family first. Perhaps most notable is what he leaves behind as a legacy. To all who knew him well he was an icon of what it means to be a good human being. His heart was always in the right place centered more on what others needed than on himself. This selflessness manifested in acts of extraordinary kindness. David was always someone you could depend on when you needed help. One of his many accomplishments was the design of the Moore's Liberty Train House located in Liberty Park, which was dedicated to him. He was also instrumental in the design and construction of Clover Dell Park. Prior to working for the Park District Dave was a roofing contractor who replaced the roof on the iconic Trust Building. David we will miss you. Your legacy will live on through all the ones you loved.A celebration of life service will be held at 1:00 p.m. Saturday, August 6, 2022 at the Convention Hall at Liberty Park, with Pastor Karen Powell officiating.Honorary bearers will be Chris Cox, Dugan Layton, Jason Moore, Gary Hayden, Jim Cramer, Donald Moore, and Patrick Curry.Memorial contributions may be made to Retrieving Freedom in the care of Rea Funeral Chapel.
Services
Liberty Park Convention Hall
1500 W. 3rd St.
Sedalia, MO
65301
Get Directions »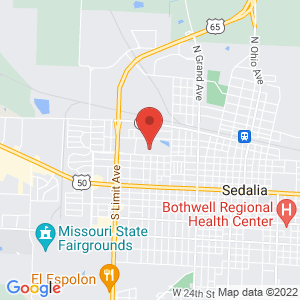 by Obituary Assistant
Photos & Video
Add New Photos & Video
Condolences

Obituaries
Rea Funeral Chapel showcases local obituaries for those who have recently passed away in the Sedalia, MO, area. Condolences and media uploads will be visible only after they have been approved.
Would you like an obituary to appear on our website?
Contact us with any questions.
We are here to help during your time of need.
For more information about our funeral services, please contact us today!